NO Boyfriend, NO Man friend, NO HUSBAND, no nada. Naturally, I'm a smidge bummed b/c every girl wants to feel a little special on today, well every day,  but after 6 years of not having a Valentine… you get used to it honestly lol, but that's really what I wanted to briefly discuss.
Singleness and embracing it.
It has been a LONG journey to get to where I am today. Now don't get me wrong, I still get sad about being single sometimes, but it's to the point I make jokes at work about not having a man, ALL the time lol.  I mean .. because I don't, but I can joke and laugh about it now because..I'M HAPPY. I'm currently in a space where I don't feel like I NEED to be in a relationship, or continue to talk to a guy for the sake of "what if's" or entertainment. I'm finally content with where I am in my journey and ENJOYING my time ALONE. After recently letting a couple of situations die, I feel relieved. NO, I don't have a Valentine, but I have peace of mind and freedom. Now by being single of course, I've always had freedom, but I mean emotional freedom. I'm not emotionally attached to anyone right now, and it's incredible. I can be selfish with my time in addition to reevaluating what I desire for myself, my future, AND in a mate.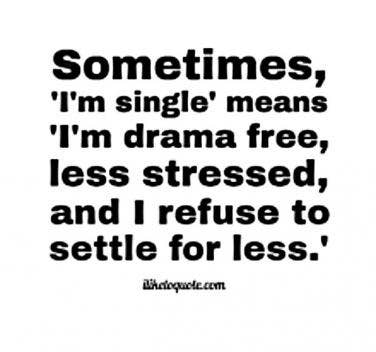 It's so easy to get down on yourself for being single when everyone else in a relationship is celebrating one another today, just remember the good parts about being single and if you can't think of any let me tell you a couple reasons…
SOLITUDE – If you want or need to be alone, be that. Take some time to do something you like to do. Write poems, Art, Watch TV, watch a movie, read a book, etc. You're not obligated to be anywhere you don't want to be this evening so take that time.
YOU ONLY HAVE TO SHOP FOR YOU – Buy YOURSELF a Valentine's Day gift. Shoes? Purse? Flowers? You want it, go get it.
GO TO DINNER – Yes, by yourself. I do this all the time. The waitresses are so sweet every time.
HAVE A GLOW DAY– So I don't know if I coined this term, but I have glow days maybe once a month. It consists of all the activities that make me feel extra beautiful (cuz I'm already beautiful lol). Mani/Pedi, nails, spa, hair, etc. Whatever it takes to lift my spirits and feel amazing about myself is what I do that day.
SAVE YOUR COINS, SIS! – I know I mentioned a couple of things that you have to spend money on but honestly, if you're not phased by today at all or just don't feel like spending money, that's great, put the money you would've spent on a glow day or a V-day gift and put it towards your savings.
Ultimately, today is what you make of it but what I DON'T want is for a beautiful individual to feel like they suck as a person because they don't have plans or haven't found "their person" just yet. Just continue to love on yourself until they come, you'll be better off  WHEN THEY FIND YOU anyway.
Add to my list! What are some of the ways you celebrate Valentine's Day as a single person? Let me know in the comments!
Love Always, JoJo♥